Are you a natural beauty but want to enhance your look or try something different? Here are my favorite basic makeup essentials to get you started.
Face Makeup Primer
This will give you the appearance of smaller pores and will help minimize the appearance of fine lines. It also helps blend your foundation and blush coverage giving you that angelic appearance. Primer helps glide your foundation or powder easily onto your skin. Moreover, using primer will help make your makeup last longer throughout the day. Try buying some that are oil-free so it won't clog pores.
Invest in a basic makeup brush applicator set.
You will need several brushes to apply your makeup. A great first starter brush kit is by Sonia Kashuk sold at Target stores. This set is only $9.99. Slowly invest in buying good quality brand brushes. Most are pricey but if you buy one every payday you will have a complete collection in no time. My personal favorite brushes are from MAC.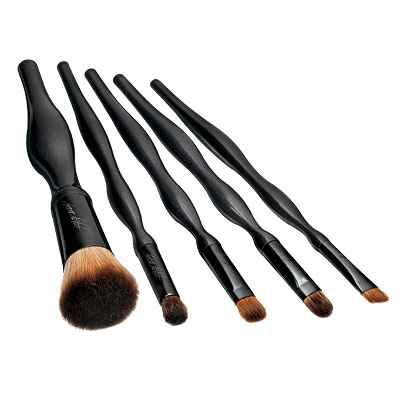 Sonia Kashuk Brush Set


Concealor
Concealor helps lighten or disguise the appearance of blemishes, scars, pimples and dark areas. After applying your favorite moisturizer or SPF, apply concealor. My favorite is Bobbi Brown Face Touch Up Stick.
Moisturizer/Sunblock
Tinted Moisturizers are a perfect alternative to foundation or powder makeup especially if you're not use to applying makeup to your skin. Tinted moisturizers help hydrate your face while giving a hint of color or to enhance that natural glow. Make sure you choose ones that have SPF and are oil-free.
Blush
For a natural glow and a hint of color, try appling blush to your cheeks. Blush will give your face a rosey appearance or acheive that flushed look. My favorite is Josie Maran's Argan Color Stick in Petal Pink. It is a mutipurpose color stick that you can sweep onto your lips or cheeks.
Mascara
Mascara helps open the eyes. My favorite is Volum' Express Maybelline waterpoof mascara. It adds fullness and length. I love waterproof mascara because the waxy formula helps hold a curl and of course the obvious, it's sweat-proof! Curl lashes and apply two coats. Don't forget about your lower lashes too. :)
Volum' Express Waterproof Mascara by Maybelline
Eyebrows
Eyebrows make a BIG difference in pulling your look together. They are my staple to keeping my look clean and fresh. Keep your brows upkept and well-groomed by tweezing them daily. However, I personally get my brows waxed at least every 2-3 weeks. Maintain the shape with tweezers and an eyebrow scissor whenever possible. Groom them daily with an eyebrow brush and apply clear mascara to set the shape.
Have fun!